All the businesses that are looking to expand their business primarily rely on online and digital platforms today. There is no doubt that embracing social media for advertising and promotion is effective, viable and expansive beyond perimeters, but the choices can eventually get exhaustive, and the campaigns will turn mundane.
So, to add some fun and customize one's digital platform, custom patches can be excellent tools. Custom patches are unique and help you create your brand statement among wider audiences.
Businesses are continuously on the watch to tap innovative promotional strategies to boost their brand awareness. Any exposure is good for brand development and all kinds of designs, whether offline or online, have a significant impact on customers, who keep coming back for more. It thus becomes a business' duty to serve their customers with new and exciting rewards.
Custom patches are one such thing that attracts large crowds of customers. It is one of the easiest and cost- friendly options for campaigning that businesses can generously commercialize for profit as well as goodwill.
Custom patches are also incredible tools to incorporate diversity in the business. They augment a product's sale which I turn earns good recall value of the market offerings for the business. Additionally, one needs to leverage the latest technologies, trends and market interests in inventive ways to make an impression and stand distinct from the crowd.
Let's take a look at how custom patches benefit your business
Build Exposure:
The step to creating an identity is building a logo. Logos enable recognition and are a mark of authenticity. Sustainment is a sign of brand credibility, and that credibility earns loyal clientele for the business.
Custom patches are one of the best ways to ensure business sustainment. They can be introduced and sold in the market in the form of logo printing on t-shirts, bags, coats or even shoes, at different rates, sizes and in edgy designs.
This way, with the help of custom patches, not only can businesses profit from their targeted customers and sustain their goodwill but also easily integrate into daily use of common people. The target audience can spot household products under your logo while walking down the street, or at an airport or even at a regular coffee shop.
Personalize:
Convert your Team as Ambassadors for your Brand.
A driven and popular team is the ultimate key to a successful business. Direct your team to become the face of your brand. Encourage them to launch the custom patches for your business. This way your employees enjoy incentives plus work satisfaction, while your customers thrive in this embrace.
Electing your team as ambassadors for your brand rather than a paid partnership with outsiders will benefit your business because there exists a genuine connection between your employees and their job. Working on custom patches together and also promoting on record will foster good ties and a positive work environment.
Similarly, when your own team uses your custom patches, it increases brand and job loyalty, and their unique promotional style will do all the talking like the best campaigning strategy. It's engaging, uber-cool and innovative.
Use custom patches to give life to your passions. Not all patches need to be about you. They can be handy tools to promote what you've been passionate about for a long time. You can best use it to indulge in promoting various social causes.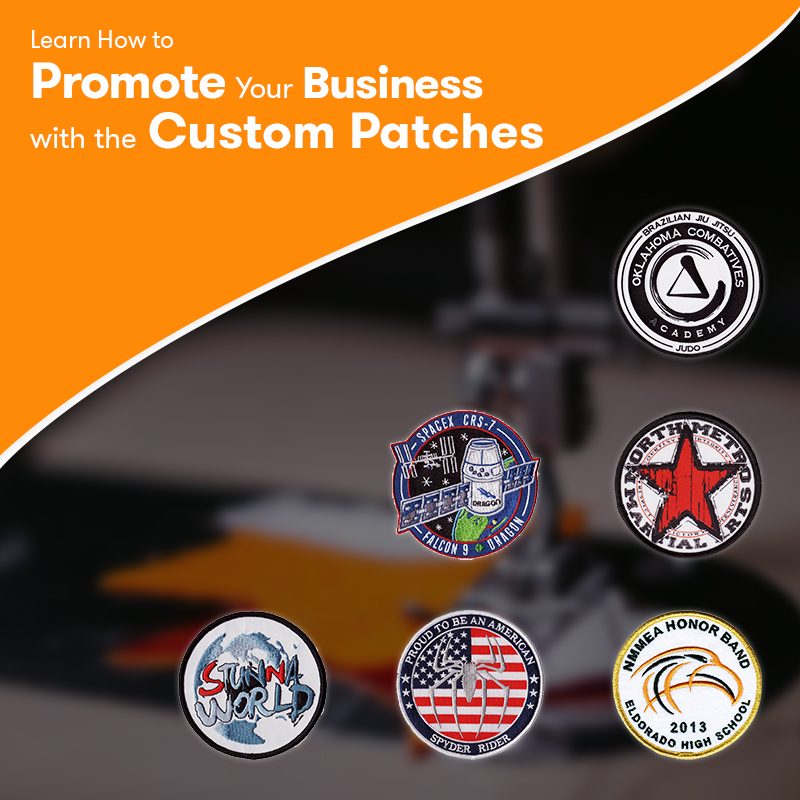 Maybe your brand cares about the environment and fights global warming, so you can theme the entire month of June to defeat hazards. Your target audience will understand your passion to combine corporate and moral responsibility and this in itself will serve as a major boon toward customer loyalty and brand exposure.
Surprise them, Do Unexpected:
Custom patches are all about making sure you stand out. They are in every way, your best friend in the business whether you're investing them to sell or boost your work morale or even gift someone with personalized embroidery.
It has become common for people to gift or receive lanyards or placards or pens at trade shows and campaigns. Customers to keep losing business cards and don't pay much heed to such anymore. It is, therefore, a better time than ever to switch to custom patches.
Custom patches are versatile, and there can be unique patch styles designed especially for every brand. It's easy to make, customize and guaranteed attention grabber. They increase customer confidence and make really good giveaway items.
Gather your best graphic designers and make optimal use of their creativity and detailed artwork. Be fearless in your experimentation and let your logo reflect your style and let your brand boldly flourish.
Your Dependable Source
In the world of customer's market, custom patches are today's reflection of a most genuine, most remarkable and most worthy investment. To see the surprising wonders of how custom-patches transform your branding and brand marketing, create, customize patches and order your first set and make heads turn with your innovative ideas.
Facebook Comments